Steering & Suspension Maintenance
What, Why & When
What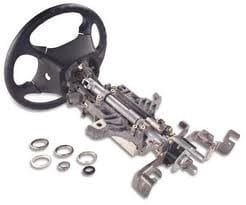 Your vehicle has a complex steering , suspension, and chassis system for your safety. It includes: Dave Sinclair Ford
Power Steering Pump
Sway Bar & Links
Rack and Pinion Gears
Drag Links
Integral Gear Boxes
Control Arms
Shocks
Ball Joints
Struts
Tie Rod Ends
Wheel Bearings
CV Joints
Why
These parts are VITAL to your SAFE operation and control of the vehicle. They work millions of times under stress.
When
Inspect EVERY 5,000 Miles these parts should be inspected by trained technicians as recommended by Ford Motor Company and repaired immediately if bad.
OR
EVERY STATE SAFETY INSPECTION visit.
Repairs can start occurring historically after 45,000 miles. However they can fail at any time and need close monitoring.
Key Warning Indicators are:
Abnormal Squealing or Groaning Noise
Abnormal Clicking or Grinding Noise over Bumps
Difficult Steering
Inability to align vehicle within Ford specs
Leaks under vehicle or low Power Steering fluid
Abnormal Tire Wear