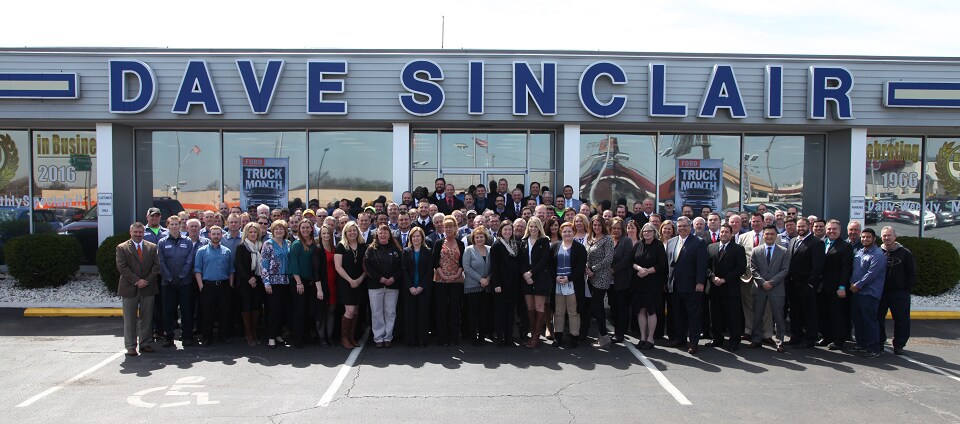 In 1966 Dave opened Dave Sinclair Ford on Kingshighway in St. Louis city.  He then moved Dave Sinclair Ford to South Lindbergh in South St. Louis County in 1972.  Family owned and operated, Dave Sinclair Ford is dedicated to the community and business of St. Louis.  The motto of the dealership has always been "If it's not right, we'll make it right!" and this has carried on to today.
Dave Sinclair Ford is among an elite group of Ford and Lincoln dealerships to be recognized with the 2015 and 2016 President's Award by Ford Motor Company.  The prestigious award honors dealerships that have excelled in automotive retailing by providing exceptional customer service and satisfaction.
The President's Award was established in 1998.  Dealers become eligible through survey responses from customers related to their sales and service satisfaction.
"In order to achieve the President's Award, dealers must exceed customer expectations every day in every department.  The pursuit of excellence is not for the faint of heart - it requires passion, tenacity and, of course, hard work.  This prestigious award salutes those top-performing Ford and Lincoln dealerships that embrace these philosophies, achieving among the highest levels of customer satisfaction - in both sales and service- in automotive retailing," said Kevin Klossner, Ford Regional Sales Manager.
"Earning this award is a reflection of our entire staff's commitment to delivering the best customer experience possible," says James Sinclair, current President of Dave Sinclair Ford. "We couldn't be more proud to receive this recognition the year we are celebrating our 50th Anniversary, especially since it comes from the people we value most - our customers. They're the reason we were able to achieve this award. We are proud to continue to honor the tradition my father Dave Sinclair Sr. started. If you take care of the customer, the rest takes care of itself."
Dave Sinclair Ford has always been your local St. Louis Ford Dealership.  Specializing in the largest volume of F-150 inventory we are your St. Louis Ford F-150 Supercenter.  Our store also has a huge selection of Ford Escapes, Ford Fusions, Ford Edges and Ford Mustangs.