Other Major Vehicle Component Oil Changes
Available for service while you wait at Dave Sinclair Ford
Contaminated or worn out oils cause breakdowns and repair/replacements of expensive components.
The schedule on which your fluids will need to be changed is determined by: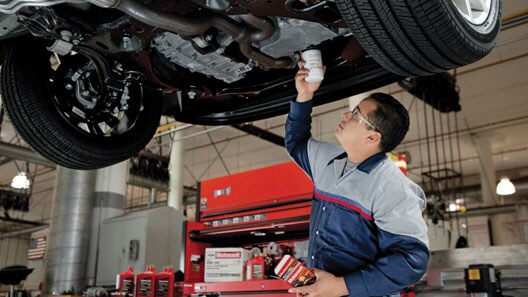 Year & Model of the vehicle
Operating Conditions such as:

Dusty conditions
High speed travel for long distances
High frequency of travel under 30mph
High or low ambient temperatures
Towing
Load carrying
Idling frequency
High periods of stop and go driving

Mileage or running hours since your last component oil change.
Time between specific component oil changes
Compenent type:

Transmission
Brakes
Power Steering
Rear Differential
Front Differential
Transfer Case
Regular changing of the above oils will maximize performance, fuel economy, and reliability. While some driving patterns may need more, and some factory schedules may vary, a safe and conservative long term cost effective approach for most drivers would be:
Consider the potential cost of major repairs and breakdowns in your decisions. (A minor cost now safes a major cost later.)
Consider early oil changes, oil changes before long trips or heavy use.
Every 30,000 miles have a professional technician check your transmission oil.

Models prior to 2008 routinely call for replacement at 30,000 mile increments
Transmission replacements can cost thousands of dollars!

Every 50,000 miles have a professional technician check your brake and power steering fluids. Safety has NO cost/benetfit formula
Every 60,000 miles have a professional technician check your differential and transfer case oils. Repairing these components can cost thousands of dollars.