History of Dave Sinclair Ford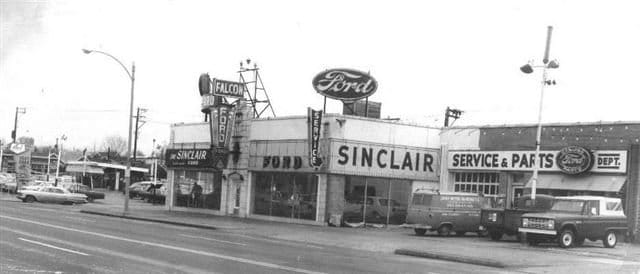 Why buy at Dave Sinclair Ford?... Dave Sinclair Ford has been the leading Ford Dealership in St. Louis and the surrounding region for 50 years and counting; for three of those years, Dave Sinclair Ford was the #1 Ford Dealer in the United States. We are most proud of our numerous President's Award and 100 Club accreditations from Ford. The President's Award is the highest rating for the "best" in Customer Satisfaction and we have consistently been a recipient of this prestigious award. The 100 Club is for achieving sales volume ranking within the top 100 dealers in the country.
Dave Sinclair Ford is a family owned and operated business located in South County, St. Louis, Missouri. We are a group of family and friends working together to provide you excellent service while you are purchasing a new or used vehicle, or when you are in need of service, work, or parts. The values and integrity you will experience are the cumulative efforts and results of a founder dedicated to providing the absolute best experience and service possible to his customers. The values of the Dave Sinclair operation are that of a man who fought in World War II, labored as a union hod carrier, serviced our community as a police officer, and lead the St. Louis Automotive Industry to conduct themselves with character and integrity. The Sinclair family has provided quality experiences for their customers and honorable employment for hundreds of St. Louisans.
The Sinclair Family is dedicated to the Community and Business of St. Louis. When you visit our stores you will be surrounded by Sinclair Family Members: Mr. Sinclair has 4 Sons, 3 Son-in-Laws, and 37 grandchildren. Be assured, there is more than enough character, integrity, and experience to provide you with the most rewarding experience possible. We continue to strive to provide an exemplary work environment for our employees, outstanding customer experiences, and to support the community through various charities and sponsorships. Please visit our store and experience the Sinclair difference!
"Thank you, And Here is Our Address": 7466 South Lindbergh, St. Louis, Mo. 63125